According to the invitation, which came from Ukraina, every competitor should climb as many boulders as possible in a definite time (3-5 hours) to get maximum number of points. The second round is Ultimate route.
The rock area is located in west Ukraine, about 60 km southern from the city of L´viv, roughly 200 km from Slovak or Polish border.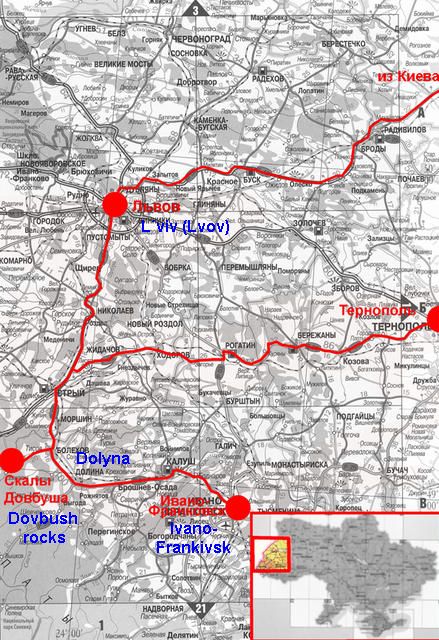 Map of location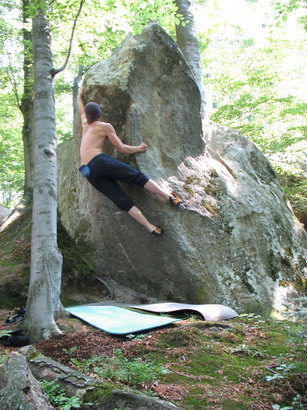 Photo from the last year festival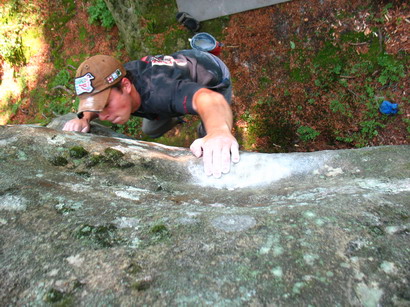 Photo from the last year festival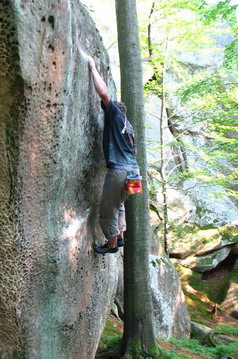 Photo from the last year festival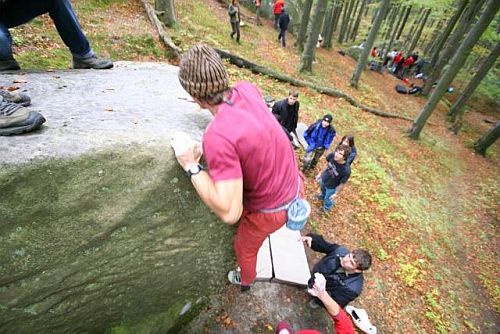 Photo from the last year festival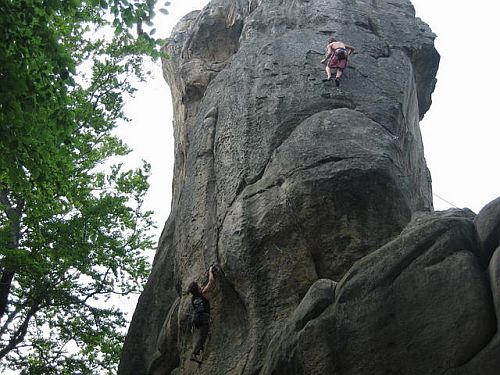 Dovbush rock climbing with rope
---
The full text of proposition:
Open Carpathian Bouldering Cup Fest. 2007
Competitions will take place in National Park "Dovbush Rocks" (Carpathian Mts area),
Ivano-Frankovsk region (Ukraine) 12th - 14th of October 2007.
Management and administration of competitions
Competitions will be held under the aegis of the Administration of the city of Ivano-Frankovsk.
General management of competitions will be held by the Extreme sports club "VIKING".
According to Ukrainian ministry regulation № 2026 of the 18.12.98 Chief Judge is responsible for competitions safety.
Competitors
Ukrainian athletes, athletes from sports organizations, sports clubs of other countries can take part in competitions. Competitors of any age will be eligible to compete in the Open Carpathian Bouldering Cup Festival. Every competitor should have medical certificate and insurance policy.
Competitions conditions
Bouldering competitions will be held according to international Bouldering competitions rules.
In a definite time (3-5 hours) every competitor should climb as many short routes, called boulders, as possible, to get maximum number of points.
The second round is Ultimate route. It will be additional round.
Every competitor should pay competition entry fee 30 UAH (5 EUR)
Competitions program
12.10.07 - Arriving, accommodations, registration.
13.10.07 12.00 – Competitions official opening
13.00 – Start
19.00 – Preliminary ranking
14.10.07 09.00 – Ultimate route start
12.00 – Competitors ranking, awarding, competitions official closing.
Competitors ranking and awarding
Result of each competitor is defined by number of points he has got during climbing.
The winners will be awarded with prize money, valuable prizes.
Ultimate route winners will be awarded separately from Bouldering festival participants.
Festival prize-winning fund is 6000 UAH (1000 EUR).
Registration of competitors, competitions financing
Competitors should be supplied with camping outfit (tents, sleeping bags, etc.) and food.
Organization, competitions holding and winners' awarding expenses are the responsibility of organizers and sponsors of festival.
These statutes are the official competitions challenge
In-depth information about competition rounds will be available on festivals' informational partner's web-sites.
Application form
1. Family name, name
2. Year of birth
3. Country, city
4. Email address (ICQ number, phone)
5. Size (X,L,M,XL)
Please send this data to the dovbusha@rambler.ru
Those competitors who are registered until the 1st of July, 2007 will receive as a present t-shirts with competitions logotype.
You can apply for the additional information to the organizers: ustulata@mail.ru lenahana@mail.ru
Shambala Company (Singing Rock distr.) is going to be principal sponsor of this event.