Tomas Mrazek finished sixth at the First International tournament of bouldering in Kiev, Ukraine, which took place yesterday and today. Besides Tomas two other Czech climbers competed: Helena Lipenska and Jan Zbranek.
Rustam Galmanov (RUS) won, Salavat Rakhmetov (RUS) was 2nd, Jerome Meyer (FRA) was third 3rd.
In women's Olga Shalagina (UKR) won, Tatyana Tarasova (RUS) was 2nd.
The news from Saturday night:
Tomas continues to tomorrow finals from the 5th position, Jan was the 28th., Helena writes in sms.
Helena ended woman qualification at the 10th place, and only 9 girls continues to Sunday finales.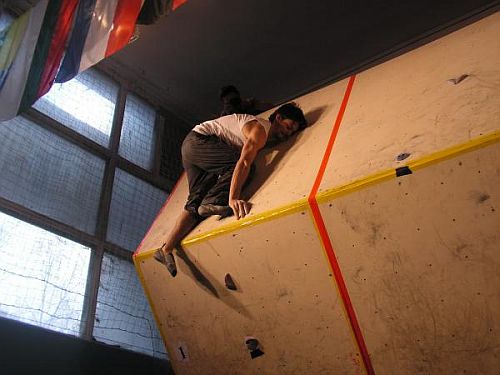 Jerome Meyer (FRA). He ended 4th. By: Jan Zbranek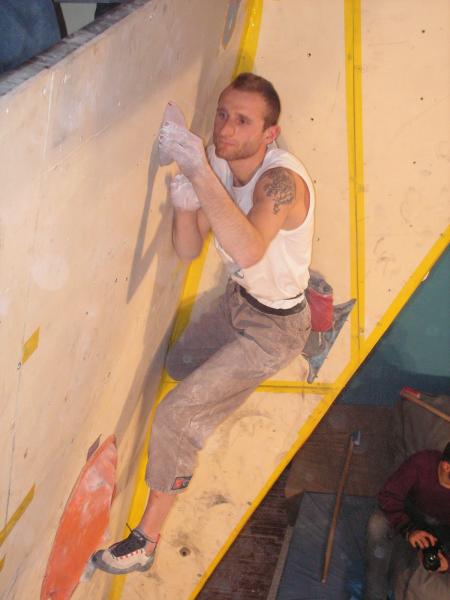 Tomáš Mrázek. By: Jan Zbranek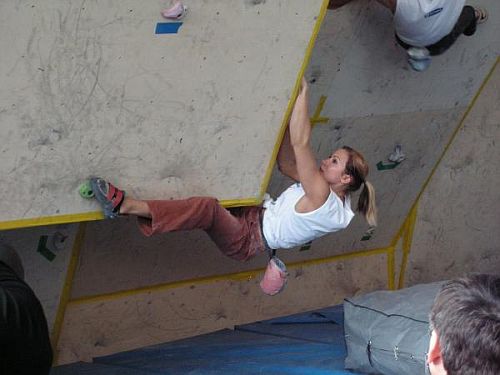 Helča Lipenská. By: Tomáš Mrázek

More photos at
www.tomasmrazek.cz
The news from Friday:
Three Czech climbers - World Champion Tomáš Mrázek, Helena Lipenská and Honza Zbranek have gone to Kiev, Ukraine, where the First International tournament on bouldering take place on April, 1-2 nd, 2006.
Helena Lipenska writes in sms, that it is like a small World Cup competition, because there are all from the World Cup tour. All are interested in Jerome Meyer (FRA) and Olga Bibik (RUS), the winners from the first World Cup 2006 in bouldering in Birmingam, UK, and also at Salavat Rakhmetov (RUS) and Tomas Mrazek (CZE), she writes. We expect other info on Saturday and Sunday.
The site about the comp:
ukrainka.extremeua.com