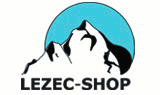 Nový průvodce Jižní Moravy
Nové knihy na Lezci
Kletterführer Elbtal


Ruzyňská liga pro děti (16.11)
Pivní boulderové závody (23.11)
4. kolo Slánské pohody (30.11)



Cesty:
1.Ondra 13184
2.Konečný 12906
3.Vopat 11866


Bouldry:
1.Stráník 11653
2.Jungling 11050
3.Novák 10875


Hory:
1.Skopec 7070
2.Zaoral 6973
3.Ondrášek 6891


SP v boulderingu Wujiang (CHN) (04.05)
SP v boulderingu Chongqing (CHN) (27.04)
SP v boulderingu Moskva (13.04)




Contact

Lost climbing gear Kaitersberg
14.09.2008
Lost climbing gear
I lost 30.08.08 at the Kaitersberg a lot of climbing gear(Rocks, Grigri...). Perhaps someone found it. Would be nice. Carsten
---
Climbing partner, Brno
04.08.2008
Hi, Im looking for an outdoor partner over August. Im 26y Australian, climbing 6b-6c indoors, not sure how well that relates to outdoors. I have my harness and shoes but thats it Im afraid. My outdoor experience is limited, but I know what Im doing.

---
bouldering-petrohrad
15.07.2008
HI,I'm climber from Poland, I'm searching guys who want to climb in August or in September in Petrohrad for two weeks. I' haven' t been in this region before so I'd rather seek climbers who were there.
&nbsp
&nbsp
Re: bouldering-petrohrad
08.08.2008
zamierzam pojechać około 12września, a bylbyś chętny lub nawet wcześniej;)??
---
Climbing in Srbsko 6-7 July 08
30.06.2008
Hi everybody.
I am a french climber (sport 6c lead and bouldering up to V5) and I would like to find people to go climbing in Srbsko on the 6th and 7th of July. I can provide transport from prague and I have my gear (except for the rope...not enoug
---
Srbsko - UK Climber in Czech
28.06.2008

Hi,

I am in Czech for 10 days from 29-6 to 8-7 flying via Prague.

I was supposed to climb with Czech friend but she is now pregnant so cannot climb.

I will have working phone so if anyone would like to
---
Hawaii rock climbing
22.04.2008
Hi guys, I´m looking for some information about climbing in Hawaii. I would like get some climbing guide book. My friends and I will go to California - Lake Tahoe again.If somebody gona be there in summer you can send me some mail a we could climb there.
---
Climbing in CZECH in august
20.04.2008
Hi! I`m climber John from Vladivostok(Russia far east) 3 my frends and me going to visit Prague in august. We will be very thankfull if somebody help us, becouse it is our first trip and we have many questions. I will be very glad to read answ
---
Outdoor climbing at Mikulov
17.04.2008
Hi,

I will be staying at my grandparents house for vacation - it is located near Mikulov. Are there any rocks to climb in this region?

Thank you and greetings

Richard
---
Cliimbing Partner for July
01.04.2008
I will be studying at the Charles University for the month of July

I am a US climber, I climb mostly indoor US grade 5.11c/d, hopefully 5.12a by then

I will know how to sport climb by then, and I am looking for a partner flue
&nbsp
&nbsp
&nbsp
Re: Cliimbing Partner for July
25.07.2008
Anyone want to do some lead (indoor or out) perhaps tonight, monday or tuesday? please email me or S
---
Britich climber moving to Prague
14.03.2008
Hi

I'm a British climber moving to Prague at the start of April and I'm looking for people that would like to climb on a regular basis indoors during the week and outdoors at weekends.

I've been climbing for ten years at a re
---
<<<
2
3
4
5
6
7
8
9
10
11
12
13
14
15
16
17
18
19
20
21
22
23
24
25
26
>>>
---
Reklama:
Lezec.cz je hlavním mediálním partnerem ČHS na internetu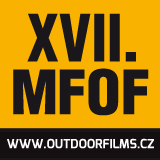 Photo of the day: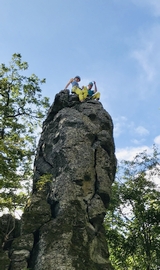 Routes:
New in discussion:
Latest comments:
Hot:
New in advertising:
Instructions:
UKClimbing.com News
- INTERVIEW: Steve McClure on Rainman 9b
- NEWSFLASH: Britain's First 9b by Steve McClure
- NEWS: Nathan Phillips flashes Font 8B
- NEWS: Alex Honnold free solos Freerider, El Capitan
- FRI NIGHT VID: Free Climbing on Baffin Island
- NEWS: Requiem E8 6b by Peter Kamitses
- NEWS: Hard boulders in South Africa for Mina Leslie-Wujastyk
- NEWS: Dead Meadow, ~8B, by Alex Puccio
- NEWS: New Aiguille du Midi Mixed Route by Jeff Mercier & Co
- NEWS: Orrin Coley climbs new 8B+ at Forest Rock
- NEWS: Marcus Scotney & Carol Morgan Win Berghaus Dragon's Back Race
- NEWS: David Fitzgerald - Voyager Sit 8B+
- NEWS: Bronze for Emily Phillips in European Youth Cup (B)
- Carinthian Dreams, 3rd ~8C in 11 days by Christof Rauch
- The Big Issue E9 6c by Ali Kennedy