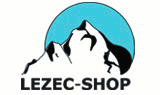 Kletterführer Elbtal
Ostravský křest knihy Navždy první
Nové průvodce světových oblastí na Lezci


SP v boulderingu Mnichov (GER) (18.05)
2. kolo Slánské pohody (29.05)
Haimaom boulder cup (01.06)



Cesty:
1.Ondra 13613
2.Konečný 13075
3.Vopat 11866


Bouldry:
1.Stráník 11650
2.Jungling 11050
3.Novák 10925


Hory:
1.Zaoral 6019
2.Švihálek 5970
3.Skopec 5925


SP v boulderingu Wujiang (CHN) (04.05)
SP v boulderingu Chongqing (CHN) (27.04)
SP v boulderingu Moskva (13.04)




Contact

Transport
03.07.2007
Hi there. I'd like to know if it is easy by train from Prague to Srbsko and to get around the area by foot or is the best to rent a car?

&nbsp
Re: Transport
11.07.2007
Hi,

Yes, you can get there by train quite easily. The train station is quite close t
---
climbing aereas
23.06.2007
Whe would like to go to your lovely country and clim (escalade)Who can help me find climbing aerea's in CZ. We are used to climb in France. With my kids I do lots of toproping. Are there climbing aereas that are already hooked? Are these aereas free
&nbsp
Re: climbing aereas
25.06.2007
Only one reason to goto climbing in CZ is sandstone.
But there are no climbing areas in Czech
&nbsp
Re: climbing aereas
28.06.2007
True is that the sandstone is the best what Czech Republic can offer. But I would say that also some
&nbsp
&nbsp
Re: climbing aereas
01.07.2007
Thanks for your reaction. It helped me a lot. When I look at the guides you mentioned there seemes t
&nbsp
&nbsp
&nbsp
Re: climbing aereas
02.08.2007
Basically we use the UIAA (German) classification in Czech. There is a need to have some reference t
&nbsp
&nbsp
&nbsp
&nbsp
Re: climbing aereas
02.08.2007
Look at the classification table here:
http://www.czechclimbing.com/zebrklas.php?print=1

---
Climbing partner
13.06.2007
Hi,

I live in Prague. I'm looking for a climbing partner to climb at local gym on weekdays and outdoor on weekends.

Thanks.
Corey
&nbsp
Re: Climbing partner
15.06.2007
Hey Corey,

Sorry I have been busy a bit lately. Have you been back to the FJ since w
&nbsp
&nbsp
Re: Climbing partner
16.06.2007
Hey Andy,

I heard you, Jirkas & Standa climbed in France a couple of weeks ago?
---
climbing basics
11.06.2007
Any ideas where one could attend some rock climbing classes in Prague?
&nbsp
Re: climbing basics
12.06.2007
Hi,

Yes, there are two that I know of: Smichoff gym and Gutoffka outdoor walll. Info
---
Sandstone
03.06.2007
Hello,

I would love to go to Czech Republic for climbing.
I hear there are some regions where sandtone walls are bolted reasonably well (near Laba).
I want to try climbing on sandstone but I am not ready to climb traditional
&nbsp
Re: Sandstone
03.06.2007
Hi,

Even the most closely bolted areas have long runouts, so beware. The best sandst
---
Climbing around Brno
17.05.2007
I was hoping someone would be able to give me some locations of indoor climbing centres and some outdoors areas aswell.
&nbsp
Re: Climbing around Brno
29.05.2007
Hallo,
there are some indoor climbing walls in Brno (like Rajce, Weissersport centrum, VUT bo
---
Crags in the South west
11.05.2007
Hi,

somebody could recommend me some crags in the south west of czechia, near Krumalov, Visiy Brod or Cesky Budejovice?

Would be appreciated.

Greats
Peter
---
bus to petrohrad?
08.05.2007
any help on bus or train schedules to petrohrad? will be in prague for 2 weeks and hoping to get at least a day of climbing in. any help greatly appreciated!
&nbsp
Re: bus to petrohrad?
12.05.2007
I am interested in this subject also. I didn't search for a bus yet, however I think it might be an
&nbsp
Re: bus to petrohrad?
14.05.2007
Hi Rocky. The best of timetable portal for (all) Czech republic traveling is IDOS ( http://tinyurl.c
---
petrohrad compeition 2007
30.04.2007
can anybody tell me when the Petrohrad 2007 bouldering compition-festival is. i can not find any information on the internet in english. is there a web site with information as a groupe of us would love too come from ireland. thanks you.


---
chalet near Sbrsko
17.04.2007
Since last year we are visiting Sbrsko as or main climbing area.Last year we stayed at the campsite near Karlstejn. Does anyone have a link to this campsite, a phonenumber or anything that would help us to make a reservation. On the other site of the bero
&nbsp
Re: chalet near Sbrsko
18.04.2007
Hi Cil,

I dont know much about camping here in Czech in official camps since I am usu
---
<<<
2
3
4
5
6
7
8
9
10
11
12
13
14
15
16
17
18
19
20
21
22
23
24
25
>>>
Transport
Hi there. I'd like to know if it is easy by train from Prague to Srbsko and to get around the area by foot or is the best to rent a car?

Carina Mortensen
11:57:59 03.07.2007
reply
&nbsp
Re: Transport
Hi,

Yes, you can get there by train quite easily. The train station is quite close to the cliff.

The train leaves from Smichovske Nadrazi and the station you want is Srbsko. you can look up connections on idos.cz


Andrew
08:07:21 11.07.2007
reply
---
Reklama:
Lezec.cz je hlavním mediálním partnerem ČHS na internetu
Photo of the day: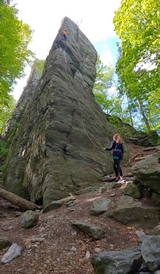 Routes:
New in discussion:
Latest comments:
Hot:
New in advertising:
Instructions:
UKClimbing.com News
- INTERVIEW: Steve McClure on Rainman 9b
- NEWSFLASH: Britain's First 9b by Steve McClure
- NEWS: Nathan Phillips flashes Font 8B
- NEWS: Alex Honnold free solos Freerider, El Capitan
- FRI NIGHT VID: Free Climbing on Baffin Island
- NEWS: Requiem E8 6b by Peter Kamitses
- NEWS: Hard boulders in South Africa for Mina Leslie-Wujastyk
- NEWS: Dead Meadow, ~8B, by Alex Puccio
- NEWS: New Aiguille du Midi Mixed Route by Jeff Mercier & Co
- NEWS: Orrin Coley climbs new 8B+ at Forest Rock
- NEWS: Marcus Scotney & Carol Morgan Win Berghaus Dragon's Back Race
- NEWS: David Fitzgerald - Voyager Sit 8B+
- NEWS: Bronze for Emily Phillips in European Youth Cup (B)
- Carinthian Dreams, 3rd ~8C in 11 days by Christof Rauch
- The Big Issue E9 6c by Ali Kennedy