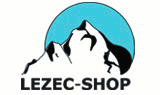 Nové průvodce světových oblastí na Lezci
Vychází nové vydání knihy Julia Kugyho: Ze života horolezce
Nové průvodce světových oblastí


4.Makak boulder kolotoč (15.02)
Skialp night Říčky (16.02)
Mistrovství ČR v ledolezení rychlost (16.02)



Cesty:
1.Ondra 13641
2.Konečný 13075
3.Vopat 11896


Bouldry:
1.Stráník 11600
2.Jungling 11050
3.Novák 10925


Hory:
1.Skopec 6646
2.Zaoral 6327
3.Coubal 6161


SP v ledolezení Francie (07.02)
SP v ledolezení Itálie (01.02)
SP v ledolezení Švýcarsko (24.01)




Contact

climber
24.04.2005
hello, i am french, 23 years, I will go to czech for see my sister between 01 may to 10 may 2005. I look for friend climber during this time for climb, boulder, rope...

ciao


---
summer czech climbing
18.04.2005
I´m thinking about pass two weeks the next august month climbing in czech. It´s early yet, but probably somebody spanish friends will go with me. My level it´s around 7a. I´m a spanish boy. I´m 33 years old. I´ve car. Would do you like climbing with me? I
---
---
Climbing partner
09.04.2005
American guy living in prague looking for someone to go climb with, email
&nbsp
Re: Climbing partner
22.05.2005
hey, I'll be in Prague for at least all of June if not longer. You up for some weekend camping/climb
---
Climbing in Pavlovské Vrchy area
30.03.2005
Can anybody give me some informationes (english or german)about climbing in Pavlovské Vrchy area near Mikulov please. (topos, internet links, guide books).
My mail: wo.hauger@gmxpro.at
Thank you very much for your help.
Wolf
---
Climbing in Nepal and Tibet 2005 and 2006
04.03.2005
We have fixed departure Expedition trip to high Himalayan 2005 and 2006. please note our expedition

Everest 8848m,
Cho Oyu 8201m,
Shishapangma 8012m,
Ama Dablam 6812m,
Pumori 7145m,
Baruntse 7129m,

---
ski touring equipment
31.01.2005
Hi friends,
I´m looking for touring-ski equipment. I think shoes like DYNAFIT are manufacutred in Czech, is DYNAFIT an Czech company?
Where in Budweis or near the Austrian Border do you know shops where I can buy such a equipment like touri
&nbsp
Re: ski touring equipment
15.02.2005
I think it is Austrian company - look at http://www.dynafit.at/
Try to send an email to Hudy
&nbsp
Re: ski touring equipment
24.02.2005
Ad. Dynafit question:

Perhaps making a little effort on google would give you answers
---
looking for climbing shop in Prague
05.01.2005
hi!
i'm from Poland and i'm going to visit Czech so i'm looking for adresses of shops in Prague with ropes, shoes and other climbing stuff. i hope you can help me :) please write on my private e-mail adress (which is wkurowski@wp.pl) because i don'
---
I'm looking for a guide
21.12.2004
i'm looking for a way for my brother and I to go climbing in cesky krumlov in july but I really dont know how I have to start looking if it's better to hire a guide or to go with a group and where can I find those groupes ??
please could you tell m
&nbsp
Re: I'm looking for a guide
30.01.2005
Have you got any answer for your demand? I can ask some climbing friend in C. Krumlov what could be
---
kranj world cup
20.11.2004
Are you guys covering the kranj world cup. The coverage on the last was awesome. Great fotos and video clips. I am looking for the same on the final with all the drama involved. Any help?
&nbsp
Re: kranj world cup
21.11.2004
I am sorry, we are not going to cover it. We are in Czech Republic and just got some sms from Kranj.
---
<<<
2
3
4
5
6
7
8
9
10
11
12
13
14
15
16
17
18
19
20
21
22
23
24
25
>>>
climber
hello, i am french, 23 years, I will go to czech for see my sister between 01 may to 10 may 2005. I look for friend climber during this time for climb, boulder, rope...

ciao


antonin
16:52:39 24.04.2005
reply
---
Reklama:
Lezec.cz je hlavním mediálním partnerem ČHS na internetu
Photo of the day: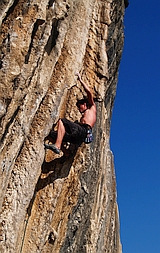 Routes:
New in discussion:
Latest comments:
Hot:
New in advertising:
Instructions:
UKClimbing.com News
- INTERVIEW: Steve McClure on Rainman 9b
- NEWSFLASH: Britain's First 9b by Steve McClure
- NEWS: Nathan Phillips flashes Font 8B
- NEWS: Alex Honnold free solos Freerider, El Capitan
- FRI NIGHT VID: Free Climbing on Baffin Island
- NEWS: Requiem E8 6b by Peter Kamitses
- NEWS: Hard boulders in South Africa for Mina Leslie-Wujastyk
- NEWS: Dead Meadow, ~8B, by Alex Puccio
- NEWS: New Aiguille du Midi Mixed Route by Jeff Mercier & Co
- NEWS: Orrin Coley climbs new 8B+ at Forest Rock
- NEWS: Marcus Scotney & Carol Morgan Win Berghaus Dragon's Back Race
- NEWS: David Fitzgerald - Voyager Sit 8B+
- NEWS: Bronze for Emily Phillips in European Youth Cup (B)
- Carinthian Dreams, 3rd ~8C in 11 days by Christof Rauch
- The Big Issue E9 6c by Ali Kennedy