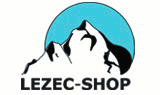 Vychází nové vydání knihy Julia Kugyho: Ze života horolezce
Nové průvodce světových oblastí
Vychází nová kniha Máry Holečka o Gasherbrumu I.


Pražský Opičák (04.12)
MMČR v boulderingu (07.12)
SAMBAR KIDS CUP (08.12)



Cesty:
37.Večeřová 10172
38.Janovský 10165
39.Jakubcova 10144


Bouldry:
37.Běhounek 8809
38.Lebeda 8803
39.Jurečka 8800


Hory:
6.Poulding 4995
7.Zaoral 4897
8.Neuwirth 4840


Dry Tool Cup (24.11)
MČR v lezení (27.10)
MS Innsbruck (06.09)




Contact

climbing partner
30.08.2014
Hi, I'm looking for a climbing partner in Prague. 1-2 times every week. Timing can be flexible. Mother with kids are welcome too.
&nbsp
Re: climbing partner
24.09.2014
Hi. I was wondering if you've found your climbing partner yet. If not, I would love to meet you som
---
climbing partner
18.06.2014
Hi, I am looking for partners to climb the first week of October this year. I have trad gear but am unfamiliar with the area. I'm open to different areas. is it possible to climb in Czech in October??
thanks
amy

---
Easy climbing site
07.05.2014
Hi there,

I am looking for an easy climbing site (III-V UIAA) in Czech, I am planning a family vacation in Czech Republic.

Thank you in advance for your help,
Wojciech

wojma1981@gmail.com
---
Looking for places and partners near Brno
05.05.2014
Hi climbers !

I am from Catalunya, and now i´m living near Brno, I´ve just arrived few days ago, i will be living in czech for 10 months. I want to find some one for climb arround czech and for train together once a week in some Brno boulde
---
Little America, bolted routes?
09.04.2014
Hi, Im planning on going to the Czech Republic in Easter for climbing and hiking. But im having a little problem finding sports routes on rocks. I have heard that there should be bolted routes in Little America (Malá Amerika)? Anyone know something about
---
Bouldering in Petrohrad around Easter
04.04.2014
Hey guys,

I plan to stay in Petrohrad for a few days of bouldering. Since I'm solo, is there a good chance to meet other people to hang out with? Or someone who plans to be there? Depending on the weather but i consider to arrive the night
---
Rock Climbing close to Brno?
03.04.2014
Hello,

with a friend we are coming this weekend to Brno and we would like to go for a rock climbing.
Can someone help us with the places/areas where are they? And how can we get there (by bus?)?

This side (a guides f
---
Lezenie ČR
24.03.2014
Čauko rád by som sa opýtal či minevie niekto poradiť. Radi by sme s chalanmi niečo poliezli v ČR neake pekne sklaky s nejakym kempom poblízku poprípade aj nejakou vodou.
Môžete ma kontaktovať aj na email jan@janmlynar.sk
Ďakujem
---
Mr.
14.03.2014
Ahoj kolegové horolezci. Pokud někdo našel černou lezení boty zpátky na Braník desky v Praze v pátek, 14.3, prosím, prosím, kontaktujte mě. To obsahovalo 4 rychloupínací spony, na safetly popruh, dvě karabiny a jistící zařízení. V podstatě celý můj gear k
---
Mr.
14.03.2014
Hello fellow climbers. If anyone found a black climbing shoe back at Branik slab in Prague on Friday, 14.3, please, please contact me. It contained 4 quick-clips, a safetly strap, 2 carbines and a belay device. Basically all my gear except for the harness
---
<<<
2
3
4
5
6
7
8
9
10
11
12
13
14
15
16
17
18
19
20
21
22
23
24
25
>>>
climbing partner
Hi, I'm looking for a climbing partner in Prague. 1-2 times every week. Timing can be flexible. Mother with kids are welcome too.
Yinan
21:09:57 30.08.2014
reply
&nbsp
Re: climbing partner
Hi. I was wondering if you've found your climbing partner yet. If not, I would love to meet you somewhere in or near Prague for a climb. I'm a bit of a beginner but would love to indoor/outdoor climb with you sometime. Thanks!
David
22:23:25 24.09.2014
reply
---
Reklama:
Lezec.cz je hlavním mediálním partnerem ČHS na internetu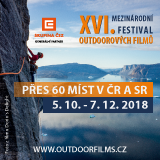 Photo of the day: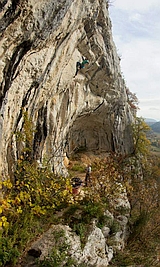 Routes:
New in discussion:
Latest comments:
Hot:
New in advertising:
Instructions:
UKClimbing.com News
- INTERVIEW: Steve McClure on Rainman 9b
- NEWSFLASH: Britain's First 9b by Steve McClure
- NEWS: Nathan Phillips flashes Font 8B
- NEWS: Alex Honnold free solos Freerider, El Capitan
- FRI NIGHT VID: Free Climbing on Baffin Island
- NEWS: Requiem E8 6b by Peter Kamitses
- NEWS: Hard boulders in South Africa for Mina Leslie-Wujastyk
- NEWS: Dead Meadow, ~8B, by Alex Puccio
- NEWS: New Aiguille du Midi Mixed Route by Jeff Mercier & Co
- NEWS: Orrin Coley climbs new 8B+ at Forest Rock
- NEWS: Marcus Scotney & Carol Morgan Win Berghaus Dragon's Back Race
- NEWS: David Fitzgerald - Voyager Sit 8B+
- NEWS: Bronze for Emily Phillips in European Youth Cup (B)
- Carinthian Dreams, 3rd ~8C in 11 days by Christof Rauch
- The Big Issue E9 6c by Ali Kennedy