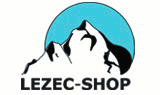 Kletterführer Elbtal
Ostravský křest knihy Navždy první
Nové průvodce světových oblastí na Lezci


SP v boulderingu Mnichov (GER) (18.05)
2. kolo Slánské pohody (29.05)
Haimaom boulder cup (01.06)



Cesty:
1.Ondra 13613
2.Konečný 13075
3.Vopat 11866


Bouldry:
1.Stráník 11650
2.Jungling 11050
3.Novák 10925


Hory:
1.Zaoral 6019
2.Švihálek 5970
3.Skopec 5925


SP v boulderingu Wujiang (CHN) (04.05)
SP v boulderingu Chongqing (CHN) (27.04)
SP v boulderingu Moskva (13.04)




Contact

Book to buy
17.01.2006
Hi, I´m looking for the book yosemite climbers, can you give me some advice where I could buy it?
Thanks a lot, Martin
&nbsp
Re: Book to buy
24.01.2006
Which one? In what language? Try google, amazon.com or?
---
bouldering on Petrin Hill
11.11.2005
Does anyone know if this is legal? Are there established routes? Are there any other areas in the city? Anybody looking for a weekday climbing partner?
Thanks
cory
&nbsp
&nbsp
Re: bouldering on Petrin Hill
03.12.2005
yes, Andy is right. I have climbed there for 20 years and have not noticed any regulation. Only some
---
Cho Oyu Expedition 2006
28.09.2005
Hello,

We have fixed departure trip to Cho Oyu Expedition spring/autumn 2006. Interest climbing can be join with our group and climb Cho Oyu 2006. more info. please write us mail or visit our home page. You will know all infomation as you w
&nbsp
Re: Cho Oyu Expedition 2006
05.02.2006
Hallo from Austria.
In autum 2006 I want to climb on Cho Oyu from Tibet.Please send me all in
---
Partner for Oct 1-2
22.09.2005
Hi, I'm going to be in Prague this Sunday and would love to find someone who wants to go climbing in one of the Sandstone tower areas the first weekend of October. Or if someone can recommend a place I could go and maybe find partners or good boulde
---
climbing holds
06.09.2005
I plan to build a private boulder room. Are there any sources for cheap and high quality climbing holds?
&nbsp
Re: climbing holds
11.11.2005
Hello
Years ago when I built my first wall I built a variety of wooden holds for my wall. Wit
---
Good brands?
28.08.2005
Hi!

I´m about to open a mountaineering store in Sweden. I am now looking for low-price, high- quality products all over the world.

What brands are the best in your country? I am interested in gore-tex xcr pants and jackets b
&nbsp
Re: Good brands?
29.08.2005
It seems that textiles are expesive here in the CZ, but I can say that for rock shoes, Rock Pillars
---
Where to climb with a child ?
25.07.2005
Dear all,

We discovered recently this website that is really interesting to schedule a trip in Czech republic. However, I have a little question : we are leaving soon (at the end of the week, from France) with our little boy (soon 2-years o
&nbsp
&nbsp
&nbsp
&nbsp
&nbsp
Re: Where to climb with a child ?
26.07.2005
We are using UIAA system for most of our crags (not for sand in prachov, adrspach, etc). Sometimes t
&nbsp
&nbsp
&nbsp
&nbsp
&nbsp
&nbsp
&nbsp
&nbsp
&nbsp
&nbsp
Re: Where to climb with a child ?
28.07.2005
Hi, in principle we are leaving tomorrow, will do a stop a few days in the Frankenjura and then will
---
Moving to Czech and must climb
16.07.2005
I've recently added mountaineering to my climbing interests while living in Colorado, but really enjoy traditional and sport climbing. I'll have a car when I move to Czech as well. So far I have only been to Suche Skaly, but would prefer going to some gra
---
Looking for climbing partner.
10.07.2005
I'm an American girl visiting Prague until at least the end of July. I'm looking for someone to climb with, either outdoors or at the gym. Email me if you are interested in meeting up to do some climbing. Cheers.
---
bouldering in czech
26.06.2005
Hi!

I'm going to spend next autumn semester as an exchange student in Prague and I would like to have some information beforehand about bouldering places particularly near Prague and indoor places for a winter. Feel free to post here!
&nbsp
Re: bouldering in czech
01.07.2005
What does it mean "close" to Prague? We have great places all around /about 100km from tow
&nbsp
Re: bouldering in czech
25.08.2005
Plus late Autumn starts a real bouldering season at Petrohrad. Never been there? Angels are weeping
---
<<<
2
3
4
5
6
7
8
9
10
11
12
13
14
15
16
17
18
19
20
21
22
23
24
25
>>>
Book to buy
Hi, I´m looking for the book yosemite climbers, can you give me some advice where I could buy it?
Thanks a lot, Martin
Martin
12:20:49 17.01.2006
reply
---
Reklama:
Lezec.cz je hlavním mediálním partnerem ČHS na internetu
Photo of the day: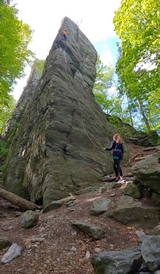 Routes:
New in discussion:
Latest comments:
Hot:
New in advertising:
Instructions:
UKClimbing.com News
- INTERVIEW: Steve McClure on Rainman 9b
- NEWSFLASH: Britain's First 9b by Steve McClure
- NEWS: Nathan Phillips flashes Font 8B
- NEWS: Alex Honnold free solos Freerider, El Capitan
- FRI NIGHT VID: Free Climbing on Baffin Island
- NEWS: Requiem E8 6b by Peter Kamitses
- NEWS: Hard boulders in South Africa for Mina Leslie-Wujastyk
- NEWS: Dead Meadow, ~8B, by Alex Puccio
- NEWS: New Aiguille du Midi Mixed Route by Jeff Mercier & Co
- NEWS: Orrin Coley climbs new 8B+ at Forest Rock
- NEWS: Marcus Scotney & Carol Morgan Win Berghaus Dragon's Back Race
- NEWS: David Fitzgerald - Voyager Sit 8B+
- NEWS: Bronze for Emily Phillips in European Youth Cup (B)
- Carinthian Dreams, 3rd ~8C in 11 days by Christof Rauch
- The Big Issue E9 6c by Ali Kennedy